Punishment for several defendants in 2009 train bombing case mitigated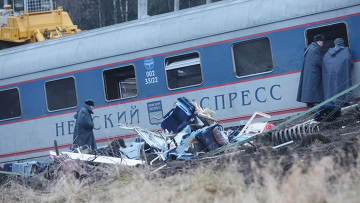 11:10 26/02/2013
MOSCOW, February 26 - RAPSI. Russia's Supreme Court mitigated punishment for six convicts in the case of the 2009 bombing of the high-speed Nevsky Express train. Beslan, Idris, Ilyas, Magomed, Tarkhan and Timur Kartoyev will be transferred from a top security to a lower security prison.
The court has thus upheld part of the appeals of the convicts' lawyers. It ruled that some of the defendants were not members of the group which organized and executed the terrorist attack.
The judge announced that those defendants declared not guilty of banditry should have the right to rehabilitation.
In the original ruling, four of the 10 men involved in the case were sentenced to life imprisonment, while the other six were given seven and eight years in prison.
The high-speed Moscow-St. Petersburg train crashed after a bomb exploded on the border between the Tver and Novgorod regions in northwest Russia on November 28, 2009. The blast killed 28 people and injured over 90.
The Tver Region Court found Zelimkhan Aushev and nine individuals all with the surname Kartoyev guilty of involvement in an illegal armed group and illegal arms sales, and handed down sentences ranging from two years to life imprisonment on May 22, 2012.
Musa Pliyev, the attorney of one of the convicted individuals, told RIA Novosti earlier that the investigators did not submit a single conclusive piece of evidence of the defendants' guilt. He added that the court was biased and the sentence unjust.
The lawyer said the only winner from this incident was Russian Railways (RZD), which was awarded 134 million rubles ($4.2 million) in compensation in its civil lawsuit against Zelimkhan Aushev and Beslan, Murad and Tatarkhan Kartoyev.
The carrier originally claimed 148 million rubles ($4.7 million).
The Tver Region Court also fined the defendants 8 million rubles ($257,000) for the victims of the bombing, although it dismissed some of the lawsuits filed by the victims, advising them to seek compensation through a civil procedure.
In addition, the court acquitted several other individuals in the case who had been charged with banditry, ruling that they had not committed any offence.
Another explosion aboard the Nevsky Express train took place two years previously, in August 2007. Around 60 people were injured, but there were no fatalities. Salambek Dzakhiyev and Maksharip Khidriyev, who were detained in connection with the 2007 case, were later acquitted of terrorism, but sentenced to 10 and 14 years, respectively, for illicit trafficking in explosives