Court terminates students exchange center's lawsuit against US Embassy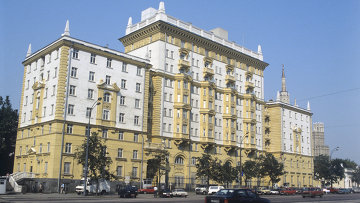 12:11 12/12/2011
MOSCOW, December 12 - RAPSI, Dmitry Shchitov. A commercial court of appeals has terminated proceedings in the Youth Center's defamation lawsuit against the U.S. Embassy in Moscow, the court told the Russian Legal Information Agency (RAPSI/rapsinews.com).
The Youth Center is a Urals company engaged in the international cultural exchange programs for young people.
The court has not given any reason for the termination.
The Youth Center sought Embassy's apologies for a letter denying the plaintiff accreditation. The letter was also sent to the company's U.S. partners, which later stopped any further cooperation with the center, the center's Executive Director Vladimir Zinenko told the court.
Zinenko said the letter referred to possible reasons for the denial, specifically the absence of a license for Russian citizens' employment abroad, non-existent companies or companies incompatible with the Work and Travel USA program on the 2010 employers' list as well as involvement of one or more company's employees in criminal activities.
According to Zinenko, such statements are false: the company has supplied the court with the documents confirming that it does hold such license and none of its employees were convicted.
The Youth Center also requested sending apologies to its U.S. colleagues.
Representatives of the U.S .Embassy have failed to appear in court. RAPSI/rapsinews.com has yet to obtain comments from the Embassy.