Tymoshenko agrees to be examined by Ukrainian doctors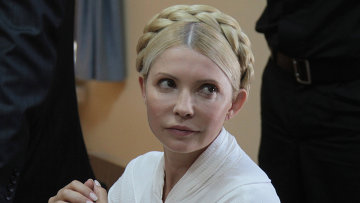 10:44 15/02/2012
KIEV, February 15 - RAPSI. Former Ukrainian Prime Minister Yulia Tymoshenko agreed to be examined by Ukrainian doctors, the Ukrainian state penitentiary service reported on Tuesday.
"Tymoshenko agreed to be examined by professor Netyazhenko, foreign doctors, and a doctor from the penal colony," the report reads.
Tymoshenko earlier refused to undergo a medical examination by Ukrainian doctors. However, the state penitentiary service stated that no medical check will be allowed without Ukrainian specialists.
Canadian and German doctors as well as their Ukrainian colleagues arrived in Kharkov to carry out an independent medical examination of Tymoshenko's health state. The medical board will comprise five foreign and six Ukrainian doctors.
Tymoshenko's health got worse during her arrest at the Kiev pre-trial detention center where she had been kept since early August 2011. She may also have back pain.
Tymoshenko's defense says that she still needs help to walk though her health condition has slightly improved.
Tymoshenko was sentenced to seven years in prison for abuse of power in signing gas contracts between Ukraine's Naftogaz and Russia's Gazprom in 2009. She is now serving her term in the Kharkiv penal colony.