Appeal in shipbuilder's shares transfer case to be heard on April 12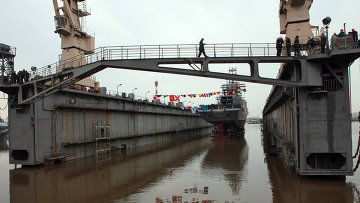 14:03 19/03/2012
MOSCOW, March 19- RAPSI. The Ninth Commercial Court of Appeals will hear on April 12 an appeal against the court's decision to levy execution on a major shipyard's shares in a Central Bank lawsuit.
The appeal against the enforcement of the Severnaya Verf's shares was filed by Mezhprombank, which is the third party in the case.
The Severnaya Verf shipyard is part of the United Industrial Corporation (UIC) owned by former Senator Sergei Pugachyov.
The court earlier ordered to appraise Severnaya Verf's shares pledged as security for loans granted to Pugachyov's Mezhprombank.
In summer 2010, the Central Bank made an unprecedented step by rescheduling Mezhprombank's debt until January 1, 2011. The debt was secured by a pledge of UIC's shipbuilding assets at par value. Mezhprombank was granted a 32-billion ruble ($1 billion) loan by the Central Bank, but was later stripped of its license and declared bankrupt on November 30, 2010.
Severnaya Verf is among the 35 companies involved in the case as third parties. These companies are Mezhprombank's borrowers. Their liabilities are also secured by disputed shares.
Severnaya Verf's shares have been transferred to the Central Bank for trust management.