Deripaska's defense to fight back over Rusal stake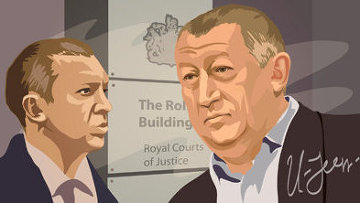 02:00 12/07/2012
MOSCOW/LONDON, July 12 - RAPSI. Rusal aluminum giant owner Oleg Deripaska will begin responding on Thursday to Mikhail Cherney's claims for compensation for his role in the aluminum business in the 1990s.
Deripaska is represented by Tom Beazley QC of the renowned Blackstone Chambers, a top-10 set of barristers chambers in terms of profit-making. According to The Lawyer, the chambers annual turnover was estimated at 42.4 million pounds in 2011.
Judging from Beazley's CV, he took part in a number of major legal battles involving Russian companies. He represented Rusal in London, in the BVI and in international disputes over the Tajik aluminium plant.
In the Neuman case Beazley also represented the defendants, accused by Cherney of fraud. Sources close to the process say this is no coincidence.
Deripaska's defense is expected to be based substantially on evidence of Cherney's criminal background and his connections to organized crime, while Cherney's lawyers insist on their client's full-fledged partnership with Deripaska, which entitles him to a stake in Rusal owner's business.
Deripaska's lawyers are likely to claim that Cherney knowingly provided the court with false information during the pretrial preparations. They may seek to prove their accusations through Cherney's allegations that Deripaska was a poor student unable to finance his business independently at the time of their acquaintance, although he was a successful businessman.
Beazley will take the floor after Mark Howard QC of the equally competent Brick Court Chambers, which is representing Cherney.
Previously, Howard represented Roman Abramiovich in his dispute with Yugraneft.
Howard has presented to the court the crux of Cherney's claims, as well as the story of how they met and started a joint business. He has promised to prove all the discrepancies noted in the defendant's testimony and to bring witnesses to the trial to testify to their business partnership.
Cherney seeks 20 percent of RUSAL, alleging that he signed an agreement in 2001 to transfer a block of company shares into trust management, which Deripaska had repay in 3-5 years.