Constitutional Court to consider Russian jurisdiction over international crimes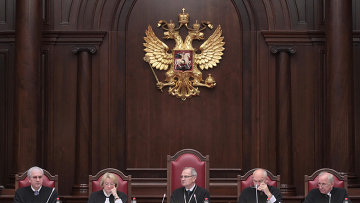 14:04 17/09/2012
ST. Petersburg, September 17 - RAPSI. The Constitutional Court has started to consider on Monday the question of whether Russian courts should consider criminal cases against citizens who committed crimes against their compatriots abroad.
The court will consider the constitutionality of the relevant Criminal Procedure Code article.
The case is being considered based upon a complaint filed by Sergei Krasnoperov, a Nakhodka resident who previously served on a tanker in the port of Valletta, Malta. The ship sailed under the Maltese flag.
In 2010, when the vessel was in the port of Constanta, Romania, Krasnoperov was injured following a conflict with his compatriot on board the ship. As soon as he returned to Nakhodka, he submitted an application to initiate a criminal case for intentional infliction of physical harm.
The court dismissed Krasnoperov's application, citing that pursuant to the Criminal Procedure Code, the procedure for bringing a citizen who committed a crime outside Russia to liability has not been regulated.
The applicant believes the standards in dispute allow courts to dismiss applications on crimes committed by citizens against their compatriots, which is in violation of the state protection of rights and freedoms.
The Constitutional Court will announce its decision at a subsequent hearing.