MFA denies espionage charges filed against Russians in US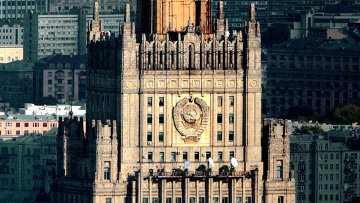 14:02 04/10/2012
MOSCOW, October 4 - RAPSI. The charges brought against several Russians by a U.S. Attorney's Office have nothing to do with intelligence activity, Deputy Foreign Minister Sergei Ryabkov has told journalists.
"As far as we know, charges have been brought against several Russian citizens. These are criminal charges, the United States informs us, and they have absolutely nothing to do with intelligence activity," Ryabkov said. He added that Russian diplomats will organize meetings with the detained Russians.
Federal prosecutors in New York reported earlier that eleven members of an alleged secret Russian military procurement network have been charged in the United States with illegally shipping sophisticated microelectronics to Russian military and intelligence agencies.
The US Federal Bureau of Investigation (FBI) arrested the alleged ringleader, 46-year-old Alexander Fishenko, and seven others on Tuesday night and Wednesday morning. They also executed search warrants at seven residences and business locations and seized assets from five bank accounts. The US Department of Justice says it believes three other suspects, who remain at-large, are back in Russia.
The indictment charges read that Fishenko had been running an elaborate scheme since 2008 which tricked US customs agents into believing that his company - Houston-based Arc Electronics, Inc. - was manufacturing and shipping routine products to Russia. Instead, according to the charges, the suspects were providing the Russian military with "controlled, sensitive technologies" that could be used for radar and surveillance systems, weapons guidance systems or detonation triggers.
"The defendants spun an elaborate web of lies to evade the laws that protect our national security. The defendants tried to take advantage of America's free markets to steal American technologies for the Russian government," said United States Attorney Loretta E. Lynch in a statement.
"We will not rest in our efforts to protect the technological advantage produced by American ingenuity. And, we will expose and hold responsible all who break our counter-proliferation laws, particularly those, like Fishenko, who serve foreign governments," said Lynch.
If convicted, the defendants face prison terms of up to 65 years for conspiracy, obstruction of justiceand violating federal commerce laws. Fishenko faces an additional 30 years behind bars for conspiracy to launder money while acting as an unregistered agent of the Russian government.
According to the Los Angeles Times, a Houston court will decide in the next couple of days whether to extend the custody of the Russians or not.
The US Department of Commerce has prohibited 165 foreign companies and individuals, connected with assets of individuals from former Soviet countries arrested on suspicions of espionage, from exporting a number of goods, the press release on the Department's website reads.