Russian suspects in "military-tech scam" to remain in US custody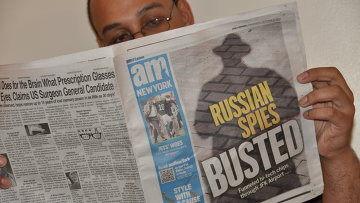 16:43 12/10/2012
HOUSTON, October 12 - RAPSI. Judge John Hanks has ruled to extend the custody of Arc Electronics head Alexander Fishenko and company employee Victoria Klebanova for the duration of the case and to transfer them to a prison facility in New York's Eastern District. Both individuals have been charged with illegally exporting dual-purpose technology to Russia. Two other Arc Electronics employees Alexander Posobilov and Anastasia Dyatlova, who both hold US and Russian passports, will remain in custody until the day of sentencing.
Russia has recognized four of the eight accused in the export case as it citizens. The availability of a Russian passport was regarded by the court as evidence that the suspect was a flight risk. The hearings began last Friday.
Azerbaijan-born Lyudmila Bagdikyan and Ukraine-born Svetalina Zagon were released on bail on Tuesday. Bagdikyan and Zagon have pledged to attend all of the hearings in Brooklyn.
The first hearing has been scheduled for October 17.
Federal prosecutors in New York reported earlier that 11 members of an alleged secret Russian military procurement network have been charged in the United States with illegally shipping sophisticated microelectronics to Russia's military and intelligence agencies.
The FBI arrested the alleged ringleader, 46-year-old Alexander Fishenko, and seven others on October 3-4. They also executed search warrants at seven residences and business locations and seized assets from five bank accounts. The Department of Justice has stated that it believes three other suspects remain at-large and have already returned to Russia.
The charges read that Fishenko has run an elaborate scheme since 2008 that tricked customs agents into believing that his company - the Houston-based Arc Electronics, Inc. - manufactured and shipped routine products to Russia. Instead, the suspects provided Russia with "controlled, sensitive technologies" that can be used for radar and surveillance systems, weapons guidance systems, and detonation triggers.