German education minister to appeal decision to revoke her Ph.D.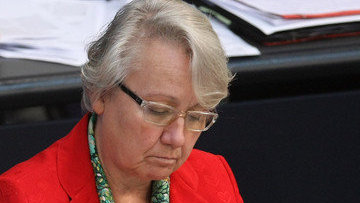 13:26 06/02/2013
BERLIN, February 6 - RAPSI. German Minister of Education and Research Annette Schavan will file a lawsuit to contest the University of Dusseldorf's decision to revoke her Ph.D. based on allegations of having plagiarized her doctoral thesis, according to her attorney.
The university's Council of the Faculty of Arts and Humanities decided at a meeting on Tuesday to declare Ms. Schavan's 1980 thesis invalid and to strip her doctorate.
Dean Bruno Bleckmann said the council had concluded that Ms. Schavan "systematically and deliberately used the results of other persons' intellectual work" in her thesis, entitled Character and Conscience (Person und Gewissen), and also failed to cite her sources properly.
The minister's lawyers said they will appeal the ruling at the administrative court of Dusseldorf. They have four weeks to do so.
Ms. Schavan has rejected the accusations of plagiarism and said she would not resign her position as Minister of Education and Research. The scandal broke out in May 2012, when several online resources published accusations of plagiarism against her.
Dean Bleckmann established a commission to examine the claims. The commission presented its conclusions at the end of 2012, and Bleckmann proposed that the faculty's council should decide whether there were sufficient grounds for initiating a procedure to revoke Ms. Schavan's doctorate.
The present proceedings were launched on January 22.