Ukrainian journalist's widow seeks review of murderer's verdict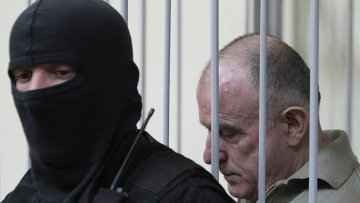 16:44 13/02/2013
KIEV, February 13 - RAPSI. Miroslava Gongadze, the widow of journalist Georgy Gongadze, has appealed the verdict of her husband's murderer, her attorney Valentina Telichenko told RIA Novosti on Wednesday.
The journalist's decapitated body was found in November 2000 in a forest near Kiev. Soon after, a tape surfaced that was allegedly recorded by former Ukrainian President Leonid Kuchma's bodyguard Mykola Melnichenko. On the tape, a voice that sounded like Kuchma's ordered someone to "deal with" Gongadze.
Former Interior Ministry General Oleksiy Pukach was convicted by the Pechorsky District Court in Kiev and given a life sentence on January 29 for murdering Gongadze. A life sentence is the harshest punishment in Ukraine.
However, Gongadze's widow said she would appeal the verdict because the sentence did not reflect the fact that it was a contract killing. "The appeal mainly says the accusations of the investigators were incomplete, as they lacked any mention of this having been a contract murder," the attorney said.
The verdict mentioned that Pukach committed the murder to advance his career after receiving the order from former Interior Minister Yuri Kravchenko. Pukach was arrested by the Ukrainian security service in 2009 after several years of searches. During his interrogation, he admitted to strangling the journalist after receiving the order from Kravchenko. Pukach also said in court that he believes the assassination was effectively ordered by Kuchma and former Parliamentary Speaker Vladimir Lytvyn.
Kuchma and Lytvyn have both denied any involvement in Gongadze's murder.