Pussy Riot's Alyokhina to persist on rights to raise child March 4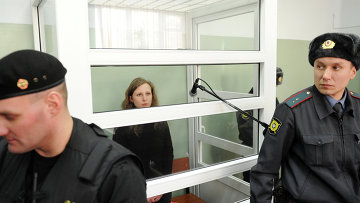 11:47 25/02/2013
PERM, February 25 - RAPSI. On March 4 the Perm Territorial Court will hear an appeal filed by Maria Alyokhina, Pussy Riot member sentenced to two years in prison, against the lower court's refusal to defer her sentence.
In mid January, the Berezniki City Court rejected Alyokhina's plea to defer her sentence on the grounds that she has a small child.
The Berezniki court concluded that this circumstance had been taken into account by the Khamovniki District Court in Moscow which passed the verdict on the three members of the Pussy Riot punk group, and that no new arguments had been provided to justify the mitigation of her punishment.
Alyokhina and her lawyers also appealed to the Berezniki court to invalidate the four penalties levied on her in prison, in particular for violating the prison routine.
The court invalidated two of the penalties, one for getting up late and the other for uncivil behavior towards a prison employee, and upheld the other two penalties, one for getting up late and the other for handing private correspondence over to a lawyer.
In late February 2012, five young women wearing brightly colored balaclavas staged a "punk-style" prayer at Moscow's Christ the Savior Cathedral. An edited video of their performance was posted on the Internet and caused a public outcry.
Pussy Riot members Nadezhda Tolokonnikova, Alyokhina and Yekaterina Samutsevich were arrested shortly thereafter. On August 17, 2012, the Khamovniki District Court sentenced them to two years in a prison settlement for disorderly conduct.
On October 10, 2012, the Moscow City Court changed Samutsevich's verdict to a suspended sentence and released her immediately, based on her new attorneys' argument that she was seized by security guards prior to reaching the altar and therefore did not actually take part in the punk prayer performance.
The court upheld Alyokhina and Tolokonnikova's sentence.