7 men go on trial over Siberian hydropower plant disaster which left 75 dead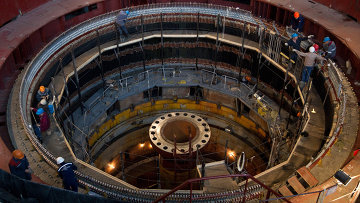 12:01 18/07/2013
MOSCOW, July 18 (RAPSI) – The trial over Russia's largest hydropower plant accident that killed 75 people in 2009 is scheduled to start on July 19, RIA Novosti reported Thursday.
7 men against whom criminal charges were filed face 7 years in prison each. The accident which occurred at the Sayano-Shushenskaya plant in Siberia in August 2009 destroyed a turbine hall, three hydropower units and damaged the other seven.
The accident resulted in a power outage at the Sayanogorsk and Khakassky aluminum smelters, which inflicted major losses on the plants which sued hydropower operator RusHydro for damages.
Investigators completed a probe into an accident in March 2011. Seven people, including the plant's former head Nikolai Nevolko and his deputies, were charged with safety breaches.
Located more than 4,000 km east of Moscow in the remote region of Khakassia, the Sayano-Shushenskaya plant is one of the biggest hydroelectric plants in the world.