Charges brought against third suspect in Nemtsov killing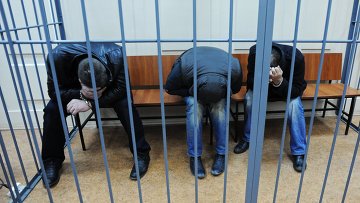 12:31 16/03/2015
MOSCOW, March 16 (RAPSI) - Investigators have brought charges against Khamzat Bakhayev, who was detained in connection with murder of Russian opposition leader Boris Nemtsov, Bakhayev's lawyer Sofia Rubasskaya told RAPSI on Monday.
Bakhayev was charged with murder and illegal weapons trafficking and then he was questioned. He pleaded not guilty, the lawyer added.
On March 8, the Basmanny District Court ruled to arrest the five suspects in the case: Zaur Dadayev and Anzor Gubashev until April 28, Shadid Gubashev until May 7, and Khamzat Bakhayev and Tamerlan Eskerkhanov until May 8.
Eskerkhanov and Shadid Gubashev are suspected under a Criminal Code article on premeditated murder committed by a group of persons for mercenary reasons or by contract or compounded by brigandage, extortion and banditry, as well as under an article on the premeditated illegal acquisition, transfer, sale, storage, transportation or possession of weapons or their basic elements and munitions by a group of persons.
Dadayev and Anzor Gubashev have been already charged with these crimes, which carry penalties ranging from eight to 20 years in prison or a life sentence.
Boris Nemtsov, who was murdered in central Moscow late at night on February 27, held several high-ranking positions in the 1990s. In the 2000s, he joined the opposition.