Savchenko appeals against refusal to let her go to PACE session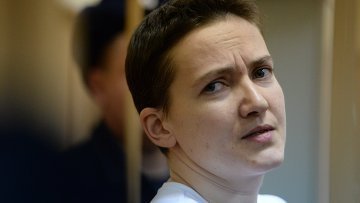 12:53 17/03/2015
MOSCOW, March 17 (RAPSI) - Ukrainian pilot Nadezhda Savchenko has filed with the Moscow City Court an appeal challenging the investigative officer's refusal to let her attend a PACE session, attorney Nikolai Polozov told RAPSI on Tuesday.
Savchenko's defense asked to invalidate the investigator's decision and to overturn the ruling of the Basmanny District Court which upheld the investigation's actions on March 4, Polozov said.
Savchenko's lawyers believe that her status as a Ukrainian PACE member also gives her diplomatic immunity and the right to attend PACE sessions, which no country member of the Council of Europe can prevent.
The court pointed out that neither Russian legislation nor the relevant international treaties warrant inmate's release for the participation in a PACE session. Moreover, the Ukrainian authorities did not present relevant documents when the investigative officer passed the decision, a judge said.
Nadezhda Savchenko was arrested in Russia last summer on charges of complicity in the murder of two Russian TV journalists during hostilities in Donbas.
TV correspondent Igor Kornelyuk and sound engineer Anton Voloshin were killed on June 17 in a mortar attack. Savchenko has denied the allegations and claims that she was kidnapped in Ukraine and forcibly transported to Russia.
She was elected a member of Ukraine's parliament from the Batkivshchyna Party in October 2014 and approved as a member of the Ukraine mission to PACE in late January 2015.