Egyptian court upholds death sentence for ex-president Morsi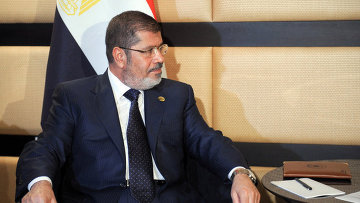 13:14 16/06/2015
MOSCOW, June 16 (RAPSI) - A Cairo Criminal Court on Tuesday upheld the death sentence for ex-president Mohamed Morsi issued by previous court ruling for his prison break in January 2011 and sentenced him to life in prison for espionage on behalf of foreign intelligence, RIA Novosti reported.
The verdict was broadcast live on state Egyptian television.
Morsi and 35 members of his team were accused of transferring classified documents to foreign special services, specifically to Iranian intelligence.
The prosecutor also claims that the defendants cooperated with extremist groups in order to destabilize the situation in Egypt.
Apart from the prison break and espionage cases, the ex-president is being tried on other charges, including the killing of protesters in December 2012.
Morsi has stated that he does not recognize the court's authority.