Former Sakhalin governor plans to file claim with ECHR over detention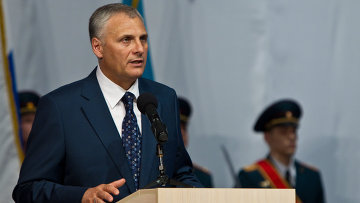 15:21 24/06/2015
MOSCOW, June 24 (RAPSI) – Alexander Khoroshavin, former governor of the Sakhalin Region in the Russian Far East, said at the Moscow City Court on Wednesday that he would file a complaint withthe European Court of Human Rights (ECHR) against his detention, RAPSI reports.
"I have hired a lawyer who will represent my interests at the Strasbourg court, but she has been denied entry to the pretrial detention center and I cannot coordinate my position with her," Khoroshavin said.
Investigators said the lawyer was denied access to Khoroshavin because the ex-governor has not filed a motion for a meeting with his lawyer, and that the ECHR has no relation to Khoroshavin's case.
The corruption case opened against Sakhalin Region officials is one of the largest in Russia in the past year.
Alexander Khoroshavinhas been placed in detention on suspicion of taking a $5.6 million bribe while closing a state contract to build a power unit for the Yuzhno-Sakhalinsk thermal plant.
Khoroshavin has denied the charges.
President Vladimir Putin dismissed the Sakhalin governor from his post due to "loss of trust" in March.
On Thursday, Khoroshavin was charged with taking a bribe of at least 15 million rubles ($300,000). The two cases will be heard together in the same trial.