Witness identifies suspect in Nemtsov murder case - report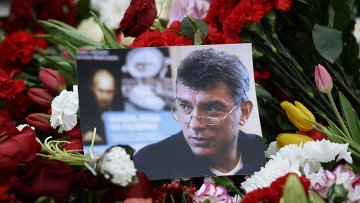 10:18 06/07/2015
MOSCOW, July 6 (RAPSI) – The housekeeper of Ruslan Geremeyev, a former Chechen Interior Ministry officer who is suspected of complicity in organizing the murder of opposition politician Boris Nemtsov, has identified another suspect, Ruslan Mukhudinov, Kommersant newspaper reported on Monday.
Both Geremeyev and Mukhudinov are wanted by police.
Housekeeper Zarema said Geremeyev hired her last October to clean an apartment he rented in Moscow and to cook for him. He said his driver Rusik [Mukhudinov], who was present at their meeting, would take her shopping.
Kommersant wrote in May that according to Zaur Dadayev's testimony, who admitted to killing Nemtsov but later said he did so under duress, a certain Rusik promised him and his unidentified accomplices 25 million rubles (about $450,000) to murder Nemtsov.
Zarema said that a relative of Geremeyev, Artur, visited him in the rented flat, and that she saw Dadayev for the first time in early January.
The newspaper writes, citing the witness, that Anzor Gubashev and Tamerlan Eskerkhanov joined the group in early February.
Zarema claims that she had no suspicions, that she never saw weapons in the house or heard them planning to kill Nemtsov. All of these men left in early March.
Nemtsov, co-chair of the Republican Party of Russia – People's Freedom Party (RPR-PARNAS) and former first deputy prime minister in the Yeltsin government, joined the opposition in the 2000s.
Investigators are looking into several theories regarding his murder, including a contract murder.
Five men are being held in detention until August 28 on suspicion of killing Nemtsov: Zaur Dadayev, Anzor Gubashev, Shadid Gubashev, Khamzat Bakhayev and Tamerlan Eskerkhanov.
Investigators believe that Dadayev killed Nemtsov, that Bakhayev provided information and was to hide his accomplices after the murder, and that Eskerkhanov was tracking Nemtsov's movements. Investigators have not reached any conclusions on the Gubashev brothers' role in the crime.