Nemtsov murder suspects to undergo sanity examination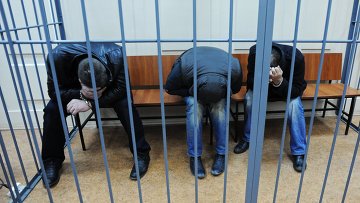 17:30 08/07/2015
MOSCOW, July 8 (RAPSI) – Suspects in the murder of opposition politician Boris Nemtsov are to be examined to determine if they are mentally competent to stand trial, Roza Magomedova, the attorney of Tamerlan Eskerkhanov, told RAPSI on Wednesday.
Five men are being held in detention until August 28 on suspicion of killing Nemtsov: Zaur Dadayev, Anzor Gubashev, Shadid Gubashev, Khamzat Bakhayev and Eskerkhanov.
Investigators believe that Dadayev killed Nemtsov, that Bakhayev provided information and was to hide his accomplices after the murder, and that Eskerkhanov was tracking Nemtsov's movements. Investigators have not reached any conclusions on the Gubashev brothers' role in the crime.
"Zaur Dadayev will undergo a sanity test today, and my client's test is scheduled for tomorrow. I think the sanity test has been approved for all suspects, though on different days," Magomedova said.
The attorney did not know what questions investigators have for experts, or if the test would be carried out at a hospital.
Magomedova said that nearly all suspects undergo tests to determine if they are competent to stand trial. If an out-of-hospital test does not provide reliable conclusions, suspects are sent to a hospital.
Nemtsov, co-chair of the Republican Party of Russia – People's Freedom Party (RPR-PARNAS) and former first deputy prime minister in the Yeltsin government, joined the opposition in the 2000s.
Investigators are looking into several theories regarding his murder, including a contract murder.