Nemtsov murder charges could be re-classified – lawyer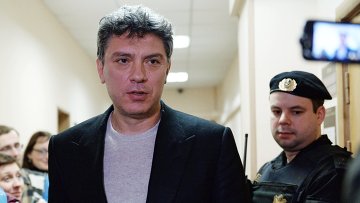 13:48 20/08/2015
MOSCOW, August 20 (RAPSI) - Boris Nemtsov's family could file a motion to have the Nemtsov murder re-classified as a more serious crime, "an attempt on the life of a government or public figure," attorney Vadim Prokhorov told RAPSI on Thursday.
At the time of the murder, Nemtsov was a member of the Yaroslavl City Duma, the lawyer said. The governor of the Yaroslavl Region was interviewed in connection with the case.
"Everybody understands that he was murdered for his political and public activity. Even our opponents do not deny that. This case could justifiably be classified under Article 227 of the Criminal Code, an attempt on the life of a government or public figure, rather than a general murder," Prokhorov adds.
Life behind bars is the maximum sentence for both crimes. However, while the minimum sentence for a murder is eight years, an attempt on the life of a government or public figure is punishable by at least 12 years. Thus, the co-defendants in the case could still be given a harsher sentence even if the court does not hand down the maximum term.
Nemtsov was murdered in central Moscow on the night of February 28. In the 1990s, the politician held a number of high-ranking posts in the Russian Government. In the 2000s, he joined the opposition.
Five suspects were detained in the case, including the alleged murderer Zaur Dadayev, brothers Anzor and Shadid Gubashev, and Khamzat Bakhayev who, according to investigators, provided his accomplices with information and then hid them after the murder. The fifth suspect, Temerlan Eskerkhanov is said to have monitored Nemtsov's whereabouts. Investigators have not revealed the suspected role of the Gubashev brothers in the crime.
Dadayev initially testified against himself and the other suspects, but later retracted his testimony in court.