Trust bank's $10 mln lawsuit against restaurant owner set for December 22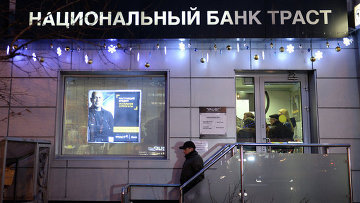 16:45 11/12/2015
MOSCOW, December 11 (RAPSI) – The Moscow Commercial Court will consider a lawsuit filed by Trust Bank to recover 710.3 million rubles ($10 mln) in debt from NRT Holdings Limited, the founder of Yaposha City operator of Yaposha restaurants, on December 22, according to court records.
According to business media, NRT Holdings Limited (Cyprus) is the sole owner of Yaposha City. National Bank Trust owns 19 percent of the Cypriot company, about 62 percent belongs to Yaposha Investments Limited, and the rest is divided among several offshore minority holders.
Earlier, the bank has also asked the court to approve an injunction to prohibit the termination of license agreements between NRT Holdings Limited and Yaposha City and the transfer of the exclusive rights to Yaposha, Япоша, Япошка and other trademarks to third parties.
The court dismissed the injunction.
Midsized lender Trust Bank reported losses of 18.8 billion rubles ($271.6 million) in 2014 amid a financial crisis. As of December 1, 2014, its assets were estimated at over 290 billion rubles ($4.2 billion).
The Central Bank estimated that the bank's debts exceeded the value of its assets by 67.8 billion rubles ($979.5 mln).