ECHR refuses to review case brought against Russia by opposition leader Navalny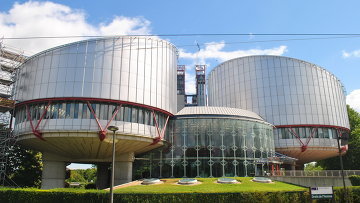 20:16 05/07/2016
MOSCOW, July 5 (RAPSI, Vladimir Yaduta) – The European Court of Human Rights (ECHR) on Tuesday dismissed a request which had been filed by Russia seeking to review a ruling in favor of opposition leader Alexei Navalny and his former colleague Pyotr Ofitserov.
Navalny and Ofitserov applied to ECHR after being convicted in timber company Kirovles embezzlement case. In July 2013, by a ruling of the Leninsky Court in the town of Kirov both opposition activists were sentenced to five years in prison and fined 500,000 rubles ($7,700) each. Later the jail time for Navalny and Ofitserov was replaced with suspended sentences.
In their complaints the applicants relied on Article 6 (right to a fair trial), Article 7 (no punishment without law), and Article 18 (limitation on use of restrictions on rights) of the European Convention on Human Rights.
In particular, Navalny and Ofitserov alleged that the the authorities extended the interpretation of the offence to such broad and ambiguous terms that it did not satisfy the requirements of foreseeability. Besides, they claimed that their prosecution and criminal conviction had been for reasons other than bringing them to justice, and in particular in order to prevent the first applicant from pursuing his public and political activities.
ECHR published its decisions on the two complaints this February. The Court held that Navalny's and Ofitserov's right to fair trial was violated and so the applicants were to be compensated legal costs in the respective amounts of 48,000 euros and 22,000 euros, as well as paid just compensation for damages in the amount of 8,000 euros to each applicant.
This May, Navalny's lawyer Vadim Kobzev informed RAPSI that the Russian Federation sought to bring this case before the ECHR Grand Chamber, i.e. insisted on its reexamination.