Buzzfeed continues to deny defamation allegations over "Trump dossier"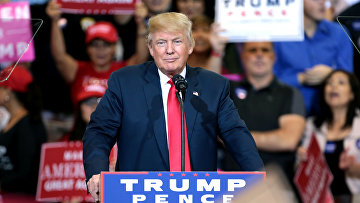 12:59 09/10/2017
MOSCOW, October 9 (RAPSI) – Popular U.S. media company Buzzfeed, accused of defamation by owners of Russian consortium Alfa Group, presented its arguments against the complaint filed by the plaintiffs and continues to deny their allegations, according to the court documents available to RAPSI.
In May, the plaintiffs, Mikhail Fridman, Petr Aven and German Khan, filed a defamation lawsuit against Buzzfeed and its employees, who published the so-called "Trump dossier" alongside their article in January. According to the plaintiffs, the article and the dossier in question contain numerous statements that damage their reputation and the one of Alfa Group as well.
They asked a court to recover compensation of at least $25,000 for each of them and to fine BuzzFeed with a sum established during the hearings.
In its arguments Buzzfeed focused on the public interest represented by the article and the dossier as well as involvement of high-ranking U.S. officials in the scandal over alleged interference in recent presidential elections by Russia.
Also, the defendant admitted that it did not contact the plaintiffs before publication of the article and expressed belief that biographies of Alfa Group's owners presents enough evidence to call them "public figures", despite their objections.
Buzzfeed believes that its publication is protected by a fair report privilege because the article is concerned with actions of governmental officials as related to the dossier. At the same time, the defendant notes that it is also protected by the neutral report privilege since "the Article did not endorse the allegations within the Dossier." Buzzfeed maintains argument that its actions are also protected by the First Amendment to the U.S. Constitution.
The media company lists numerous facts about the plaintiffs, stating that they had a major influence over development of Russian economy and have deep ties to the country's government and the President himself.
Earlier, owners of Alfa Group filed a defamation lawsuit against Fusion GPS company and its head Glenn Simpson over publication of information contained in the dossier.
The plaintiffs stated that during the 2016 U.S. presidential elections opponents of Donald Trump hired Simpson to compile a dossier containing damaging information about the candidate. The document in question in many ways was focused on Trump's alleged relations with Russia and Russian meddling with the elections in the United States.
According to the plaintiffs, authors of the dossier mentioned Alfa Group in one of the reports and claimed that its owners are implicated "in the scandalous allegations involving Russia and President Trump" as well as other criminal activities, including corruption.