Convicted ex-governor of Sakhalin appeals prison sentence for corruption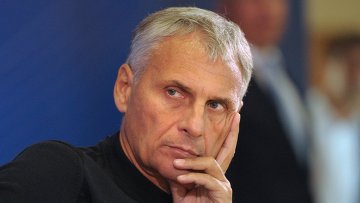 10:59 19/02/2018
MOSCOW, February 19 (RAPSI) – Former governor of the Sakhalin Region, Alexander Khoroshavin, who had been found guilty of corruption, has appealed his 13-year prison sentence, lawyer Yury Syuzyumov has told RAPSI.
Earlier, prison sentence of the governor's counsellor Andrey Ikramov was also appealed.
On February 9, the Yuzhno-Sakhalinsk City Court sentenced Khoroshavin, to 13 years in a high-security penal colony and fined him 500 million rubles (about $8.6 million). Ikramov was sentenced to 9.5 years and fined 171 million rubles (nearly $3 million), and deputy governor of the region, Sergey Karepkin, was sentenced to 8 years and fined 4 million rubles (nearly $70,000). All of the defendants were found guilty of bribe-taking and laundering of illegally obtained funds.
The court found that in 2009 Khoroshavin established an organized criminal group with Karepkin and Ikramov. In 2009-2015, the criminals received over 522 million rubles (nearly $9 million) from regional entrepreneurs.
President Vladimir Putin dismissed Khoroshavin from his post due to "loss of trust" in March 2015.
In April 2015, Khoroshavin was charged in another criminal case with taking a bribe of at least 15 million rubles ($230,000) for providing credits on advantageous terms to one of the local businessmen. He pleaded not guilty.
In January 2016, the third criminal case was opened against Khoroshavin. According to investigators, he took 27 million rubles ($414,000) in bribes from candidates for the positions in Yuzhno-Sakhalinsk City Duma in 2014.
In May 2016, a court in Yuzno-Sakhalinsk granted a motion by prosecutors for confiscation of property belonging to Khoroshavin, his wife and son. In particular, expensive apartments, fancy cars, money, jewelry were taken to the state based upon the facts of corruption established by investigation. The family appealed the ruling.
Interestingly, in September 2015, Irina Khoroshavina filed for divorce and division of property.