Russian nationalist Potkin gets 3.5 years for extremism after case review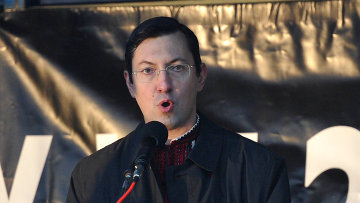 18:00 28/03/2018
MOSCOW, March 28 (RAPSI) – The Moscow City Court on Wednesday reviewed an appeal filed by Russian nationalist Alexander Potkin (also known as Belov) against his sentence for extremism and gave him 3.5 years in prison, RAPSI reported from the courtroom.
Potkin was also prohibited from performing public activities for 6 years.
In August 2016, the Meshchansky District Court of Moscow sentenced Potkin to 7.5 years in prison and fined him 600,000 rubles (about $10,500 at the current exchange rate). Moreover, the court granted a 4.9 billion-ruble lawsuit ($85 million) filed by the injured party against Potkin.
In April 2017, the Moscow City Court reduced his prison term to 3.5 years, cancelled part of the sentence related to embezzlement charges and returned that part of the criminal case to prosecutors. The Presidium upheld the April decision of the Moscow City Court and ruled to reconsider parts of the sentence related to other charges. In January 2018, the Presidium of the Moscow City Court ruled to reconsider the case.
According to the original indictment, Mukhtar Ablyazov, ex-chairman of the Kazakh BTA Bank, who allegedly wanted to destabilize the constitutional order in Kazakhstan, asked Potkin to help him with organizing an extremist group.
Potkin allegedly agreed and used funds embezzled from BTA Bank to spread the nationalist ideology in Kazakhstan. Potkin has pleaded not guilty.
Potkin was arrested on October 15, 2014 at the Hotel Intourist Kolomenskoe in Moscow on charges related to the embezzlement of $5 billion from BTA Bank. At the time of the arrest, Potkin allegedly had documents on him that effectively tied him to the embezzlement. In December 2016, the European Court of Human Rights (ECHR) awarded €2,500 in compensation to Potkin for withdrawal of his complaint over long stay in detention from the court.