Russian tycoon Ismailov accuses Rosbalt news agency of libel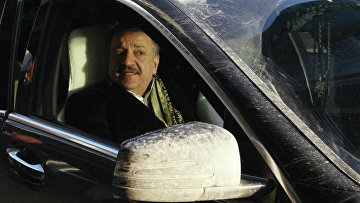 10:59 16/05/2018
MOSCOW, May 16 (RAPSI) - Russian businessman Telman Ismailov charged in absentia with murder and illegal arms trafficking has lodged a 1-million-ruble defamation lawsuit ($16,000) against Rosbalt new agency, the spokesperson of Moscow's Presnensky District Court Aleksey Chernikov has told RAPSI.
In his claim Ismailov says that the media outlet published 7 articles containing intentionally false information about him and abusive language.
The businessman demands to collect 900,000 rubles from the news agency and 100,000 rubles from an author of articles. Moreover, he seeks refutation of statements written in the articles and declaration of them contradicting the reality.
In March 2017, Ismailov was declared bankrupt. In December 2017, the businessman was charged in absentia with murder and illegal arms trafficking. He was also put on the international wanted list.
According to investigators, Ismailov organized the murder of businessman Vladimir Savkin and founder of Lublino-Motors auto service centre Yury Brylev in May 2016. In preparing the crime Ismailov, investigators believe, was assisted by his brothers Rafik and Vagif Ismailovs, whereas the murder was allegedly committed by Mekhman Kerimov, who pleaded guilty. Rafik Ismailov and Kerimov were placed in detention, Telman and Vagif Ismailovs were arrested in absentia by a court decision.
The businessman could face life imprisonment if convicted.
Telman Ismailov, who controls AST Group, is one of Russia's richest men. In 2009, he clashed with law enforcement authorities over the Cherkizovsky outdoor market, which evolved from a mere flea market into an industrial-scale distribution hub for Chinese imports during the oil boom. The market was closed after sanitary authorities found major violations.