Posthumous mental examination scheduled for Crimea college shooting suspect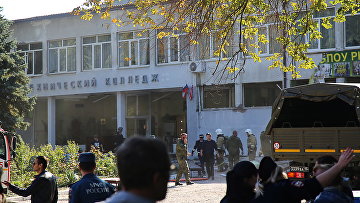 11:48 18/10/2018
MOSCOW, October 18 (RAPSI) – Investigators have scheduled several examinations in the case over a deadly attack in Crimea's Kerch Polytechnic College including a posthumous mental assessment of an alleged shooter, the press service of Russia's Investigative Committee reports.
On October 17, an explosive device composed of metallic items detonated in a student canteen of the college, investigators said. Later, an alleged criminal identified as a student of the college's fourth grade Vladislav Roslyakov, 18, shot people present in the building and then committed suicide, the statement reads.
According to the latest information, 20 persons were killed in the incident, over 40 people were wounded.
A criminal case was opened over mass murder. Searches were conducted in dwellings of Roslyakov's relatives and rental apartment where the suspect was living with his mother. The college's principal Olga Grebennikova was questioned. Interrogation of teachers, students, other witnesses and victims is underway.