Trial of 12 alleged members of notorious Russian gang to be held behind closed doors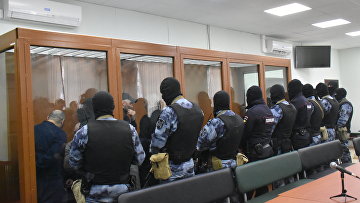 17:14 21/02/2019
MOSCOW, February 21 (RAPSI) – The Moscow District Military Court will consider a case against 12 alleged members of a notorious Russian gang led by Georgian-born Aslan Gagiyev behind closed doors, the court's spokesperson Irina Zhirnova told RAPSI on Thursday.
The court will begin hearing the case on March 6.
Earlier, the defendants waived trial by jury or three judges. The case will be considered by one judge.
Twelve defendants stand charged with multiple killings, attempted murders, participation in a gang, racketeering, kidnapping, endangering the life law enforcement officers and ammunition trafficking.
Russian investigators claim that the gang allegedly organized by Gagiyev has been operating since 2004 and includes over 50 members. Members of the gang committed more than 40 contract killings in Moscow, Moscow Region and North Ossetia including murders of high-ranking officials, law enforcement officers and businessmen.
Gagiyev was extradited from Austria to Russia on June 20. He pleaded not guilty and refused to testify. Some members of the gang have already been convicted and are serving long prison terms.