Russian court to examine fraud case against manager of travel company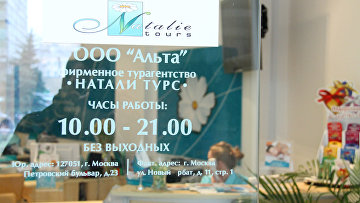 16:52 22/02/2019
MOSCOW, February 22 (RAPSI) – A court in the Russian town of Angarsk is to review a case launched against a manager of the Natalie Tours company charged with fraud amounting to 2 million rubles ($30,500 at the current exchange rate), RAPSI has been told by the Prosecutor General's Office press-service.
The prosecution has approved and submitted to the court a criminal case against the manager, who stands charged with 13 counts of serious fraud committed in abuse of office.
Investigators believe that the manager stole the money customers paid for their travel packages as she did not send booking applications and transfer the respective sums as payments for tourist services.
The defendant, the press-service says, has pleaded guilty and paid the full amount of damages to the affected customers.
Last year, an inspection carried by the Moscow prosecutor's office resulted in the fraud case being launched against employees of the troubled Natalie Tours company. At that time, prosecutors found that Natalie Tours and Panorama Tour received over one million rubles (about $15,200) as payment for provision of tourist products and services that were not actually carried out.
The criminal case was classified as fraud committed by an organized criminal group or on an especially large scale.
In July of 2018, Natalie Tours reported cancellation of all tours and suspension of sales because of financial problems. Later, the company started paying compensations to clients for canceled tours.
Natalie Tours, a tour operator on the Russian foreign tourist market, was founded in April 1992. In 2014, the company's amount of business was estimated at $850 million.