Extension of arrest of suspect in notorious Bulgaria riverboat case upheld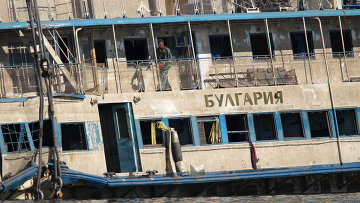 15:19 14/10/2011
KAZAN, October 14 - RAPSI. The Board of Tatarstan's Supreme Court upheld the extension of Vladislav Semyonov's arrest until December 10 in the notorious Bulgaria riverboat case, court official told RIA Novosti on Friday.
Semyonov is an officer of the Federal Sea and River Transport Supervisory Service's Kazan Department.
The court held against Semyonov's cassation appeal against the extension of his arrest.
The Bulgaria, a double-decked riverboat built in Czechoslovakia in 1955, sank on July 10 on the Volga River in Tatarstan. According to the Investigative Committee, the ship was carrying 201 passengers, of whom 122 died and 79 were rescued.
On August 17, the Kazan court decided to arrest Semynov, who was fired in July after Bulgaria crashed, as well head of the department Irek Timergaziyev. The two have been accused of negligence, which resulted in the death of two or more people.
Charges were also brought against Svetlana Inyakina, the CEO of AgroRechTur, which subleased the riverboat, and Yakov Ivashov, the chief expert of the Russian River Register's Kama Branch. Both individuals are already in custody.