Uncle of North Korea's Kim Jong Un labeled traitor, executed – report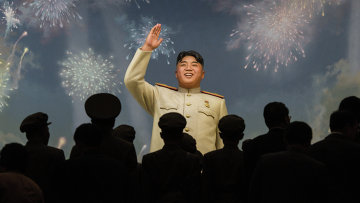 15:43 13/12/2013
MOSCOW, December 13 (RAPSI, Ingrid Burke) - Jang Song Thaek, uncle of North Korean leader Kim Jong Un and a man who until recently was broadly seen as the country's second in command, was executed Thursday in the immediate aftermath of a military tribunal's conclusion that Jang had "committed such hideous crime as attempting to overthrow the state by all sorts of intrigues and despicable methods," state media outlet Korean Central News Agency (KCNA) reported Friday.
A special military tribunal that convened to hear the case Thursday reportedly found that Jang had violated Article 60 of North Korea's Criminal Code by "ideologically aligning himself with enemies."
The tribunal further, "vehemently condemned him as a wicked political careerist, trickster and traitor for all ages in the name of the revolution and the people," according to KCNA, thus determining that he would face the death penalty.
The report added, "[t]he decision was immediately executed."
A KCNA report published earlier in the week detailing a meeting of the Poliburo of the ruling Workers' Party of Korea held in Pyongyang Sunday noted that the meeting dealt with the "anti-party, counter-revolutionary factional acts committed by Jang Song Thaek."
The report notes that the Wokers' Party of Korea's (WPK) 70-year history proves the "immutable truth" of the necessity of party unity and cohesion. Contending that the "final victory" in building a thriving nation is near, the report asserts: "Such situation urgently calls for consolidating as firm as a rock the single-minded unity of the party and the revolutionary ranks with Kim Jong Un as its unitary centre and more thoroughly establishing the monolithic leadership system of the party throughout the party and society."
The report goes on to cite an array of malfeasances, including: "counter-revolutionary, unpopular criminal acts of giving up the class struggle and paralyzing the function of popular democratic dictatorship," obstructing the nation's economic affairs, underselling precious resources, abuse of power, corruption, and leading a "dissolute and depraved life."
According to the report, Jang had "improper relations with several women and was wined and dined at back parlors of deluxe restaurants." Furthermore, the "[i]deologically sick and extremely idle and easy-going" Jang allegedly "used drugs and squandered foreign currency at casinos while he was receiving medical treatment in a foreign country under the care of the party."
Sunday's meeting concluded with the adoption of a decision by the politburo to strip Jang of all official positions, deprive him of all titles, and expel him from the party.
The report warned ominously: "Our party will never pardon anyone challenging its leadership and infringing upon the interests of the state and people in violation of the principle of the revolution, regardless of his or her position and merits."