Manning to receive treatment for gender identity disorder in military hospital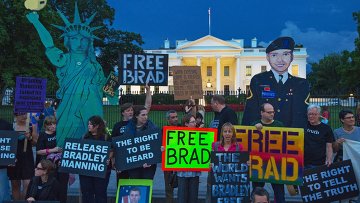 10:35 18/07/2014
MOSCOW, July 18 (RAPSI) – Army intelligence analyst Pfc. Bradley Manning, who was sentenced to 35 years for leaking hundreds of thousands of confidential documents, will receive treatment for gender identity disorder in a military hospital, AP announced on Thursday, citing Defense Department sources.
In May, the Bureau of Prisons denied the Pentagon's request to transfer Bradley, who insists on being called Chelsea, from an all-male military prison to a civilian federal facility where he could get better treatment for his condition.
The recommendation was approved by Defense Secretary Chuck Hagel.
Gender identity disorder, or gender dysphoria, is a diagnosis used to describe people who experience significant dysphoria (discontent) with the sex they were assigned at birth and/or the gender roles associated with that sex.
Manning, 26, was arrested in May 2010 in Iraq, where he was stationed at the time. He admitted to leaking classified information to Wikileaks, including videos of Baghdad and Afghanistan air raids in which civilians were killed, hundreds of thousands of Army reports that came to be known as the Iraq War logs and Afghan War logs, Guantanamo Bay files and about 250,000 US diplomatic cables.
Manning was sentenced in August 2013 to 35 years in prison, with the possibility of parole in eight years.
Manning announced the desire to live as a woman and change his name to Chelsea Elizabeth Manning from Bradley Edward Manning after s/he was delivered to Fort Leavenworth, an all-male facility in Kansas, in August 2013.