Russian bikers to demand $60,000 compensation from EU - report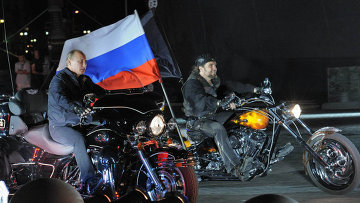 14:26 06/05/2015
MOSCOW, May 6 (RAPSI) - Members of the Night Wolves motorcycle club intend to sue the EU for 3 million rubles ($60,000) in compensation for damages caused to the riders of a cross-country motorcycle ride who were stopped from entering European territory, Kommersant FM reports Wednesday citing rally director Andrei Bobrovsky.
Bobrovsky says the lawsuit is the result of the riders' "tarnished names and criminal implications without legitimate cause."
The motorcycle club hopes to be compensated for the expenses of the long distance ride.
The Night Wolves club planned to commemorate the 70th anniversary of Victory in the Great Patriotic War by riding from Moscow to Berlin. The bikers' itinerary included Moscow, Minsk, Brest, Wrocław, Brno, Bratislava, Vienna, Munich, Prague, Torgau and Berlin. However, Polish customs officers denied entry to the riders.
The Russian Foreign Ministry has requested an explanation from Polish officials. Other members of the group were denied entry into Germany and their visas were canceled.
The Night Wolves was the first bikers' club in the Soviet Union and has existed since 1989. In 1995 it was registered as a public organization.