Russian Patriarch's social media account could be registered as media outlet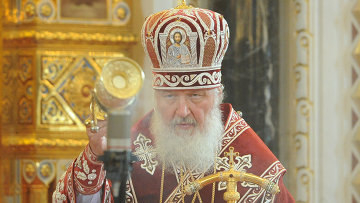 11:23 29/05/2015
MOSCOW, May 29 (RAPSI) – The Communists of Russia party has appealed to the communications regulator Roskomnadzor to register the patriarch's VKontakte account as a media outlet, Izvestia newspaper reported on Friday.
An official VKontakte account of Patriarch Kirill of Moscow and All Russia was launched on May 24, in time for Day of Slavic Writing and Culture. The account will be managed by the Synodal Information Department, which will select relevant questions and comments for the patriarch. The patriarch has accounts on Facebook and the Orthodox social media Yelitsy.
Maxim Suraikin, the leader of the Communists of Russia, believes that the patriarch's account should be added to the register of popular bloggers who are required to operate in accordance with the laws on the media, because it had about one million visits on the first day after launching.
"The law on bloggers aims to limit coarse language online and to promote a responsible attitude among the owners of popular accounts. In this case, everyone is equal before the law. This is why we have appealed to Roskomnadzor to consider the social media account of Patriarch Kirill for possible registration as a media outlet in accordance with this law," Suraikin told Izvestia.
The law on bloggers entered into force on August 1, 2014. It requires individuals whose blog attracts a daily readership of more than 3,000 to take on the full responsibilities of media outlets.
The law obliges the owners of these personal websites and social network accounts to confirm the reliability of information, to respect election campaign rules such as election silence and a ban on publishing poll results in the last five days before an election, not to publish private information about other people, and to indicate age limits for users.
Bloggers who fail to comply with these rules will face fines of up to 500,000 rubles (about $10,000).
The Communists of Russia operated as an NGO from 2009 to June 2012, when it was registered as a political party. According to the party, it has about 50,000 members and active supporters.