Putin discusses possibility of release for Ukrainian nationals Sentsov and Sushchenko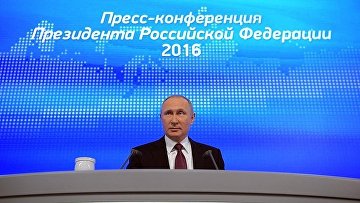 15:40 23/12/2016
MOSCOW, December 23 (RAPSI, Lyudmila Klenko) – Russian President Vladimir Putin has announced his opinion on potential release for Ukrainian nationals, film director Oleg Sentsov and journalist Roman Sushchenko, during his annual press-conference in the Moscow Centre of international trade.
Putin said that film directors should work on films and journalists should be engaged in journalism. "What are we supposed to do when a film director was preparing for terror attacks? Should we release him just because he is a film director?", Putin asked. He added that amnesty is up for discussion only when Ukraine will renounce hostile actions against Russia.
In August 2015, Sentsov was sentenced to 20 years in prison for organizing a terrorist group in Crimea. Investigators found that Sentsov started a terrorist group, a branch of the Right Sector movement that is banned in Russia. He was allegedly promoting Crimea's secession from Russia. Sentsov denied all charges against him. He said he had never been a member of the Right Sector and that the investigators had no evidence against him.
On October 7, Russia's Federal Security Service (FSB) charged Sushchenko with espionage. According to the FSB, the Ukrainian citizen "purposively collected classified information about the Armed Forces and National Guard of Russia." Leak of data abroad could cause damage to the national defense capability, according to the FSB. Sushchenko faces up to 20 years in prison if found guilty.